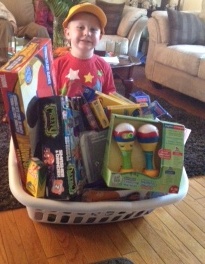 Little four year old Landyn wants to go to school so bad, his Mom shared with us when they made a special visit to our home to meet Stephen this week. Actually, it was the first day of school. I had met Ellen; Landyn's Mom at the Alberta Sick Children's Hospital, where she does amazing work for many children. She had told her son what Stephen was doing for children in need and he took 15 "hard earned" dollars out of his piggy bank to help. His Mom matched it and he came with his brother to bring a laundry basket filled with toys, school supplies and many other wonderful items to help children in need. Stephen told him he reminded him of another special boy called Lucas who gave up his 5th BD to help Stephen 's charity.
Ellen not only helps other children in need at the hospital. She is an excellent Mom and role model; teaching both her children the value of giving of one's self at such a young age. I could not help but feel the love and encouragement that this family expresses. There is such true joy in giving from the heart, especially the heart of a child.
Stephen is touching and encouraging many children of all ages to reach out beyond their own world of wants and feel the great love of just giving to others in need.
Thank you Landyn, many children will smile because of your great heart and generosity.