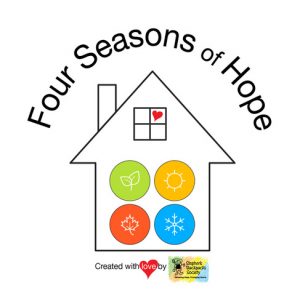 Four Seasons of Hope
It all began with a dream from a 5 year old boy who overheard his parents talking about a homeless man in the newspaper. When he asked about it and learned that there are homeless children, men and women it ignited a vision of change when he said to his mother "mommy we have to help them!" Since 2006, Stephen's Backpacks Society has helped more than 70,000 children in need and has supported 32 families with a second chance at home life. Stephen has become a voice for homeless children and it all started with a dream to help those in need.
---
Project Hope
Stephen's Backpacks Society, in association with local housing shelters, helps families transition from life in the shelter to living in a home again. Families starting out again are given basic home furnishings including bedroom and kitchen accessories to get families back on their feet and do the most important thing for children, to build happy memories. Remember what it was like to wake up in your own, warm bed, and smelling dinner cooking in the kitchen? Project Hope gives selected families who have an established need a second chance at home life. Instead of sleeping on the cold floors of their apartment, Project Hope alleviates the stress placed on families who can not afford basic housing furniture and gives them a place to rest. A happy home contributes to healthier children! Read More …
Project Footprints
Working with our corporate partners locally in Airdrie and Calgary, we have donated over 15,000 new pairs of "Back to School" running shoes for children with an established need or who are in distress and whose families can not afford to purchase new shoes. Although most school supplies are offered through the school system, proper footwear is least thought of as a necessity for the growing needs of children. Your contribution will continue to fund footwear for children every year! Read More …

Global Citizen Project
Stephen's Backpacks Society is dedicated to taking families and children off the streets, and keeping them off! In addition to providing immediate support for families with basic items for school, toiletries, home furnishings and more, the Global Citizen Project seeks to educate families and coordinates with other support groups and organizations to offer families the necessary support and skills to be self-sufficient. Educating families and increasing awareness of issues contributing to homelessness will permanently keep families off the streets. Stephen's Backpacks Society and its partners are committed to the marathon of ending homelessness in industrialized economies for families who experience hardships and have exhausted their options.