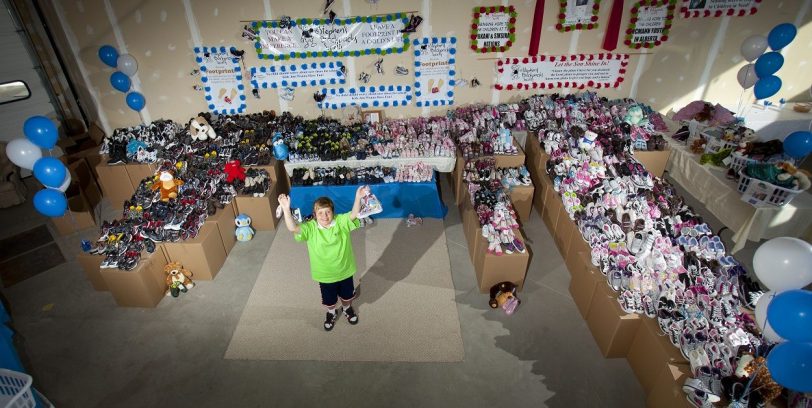 Stephen's project to provide new "back to school" running shoes for children in distress. We remember what it was like heading back to school with fresh scribblers, pencils and new running shoes, but some children won't. You can help us change that…You can Help Children by DONATING or GETTING INVOLVED.

---
 "Can I Take My Shoes With Me?" Story by Nancy McPhee
In 2007, while visiting Inn from the Cold in Calgary, Stephen found out that children went to school and did not have new outdoor running shoes or indoor running shoes. Stephen's response…"We can help them Mom!"
Footprints was born in 2008 as a part of the Stephen's Backpacks Society that equips children of all ages with two pair of brand new running shoes to start back to school. Making that gift even more special for the children, women from Airdrie, headed up by Jackie Taylor, sew beautiful draw string bags to put them in.  In the first year an amazing 600 pair of new running shoes were collected and delivered with a bright yellow donated school bus to children at Brenda Strafford, Sheriff King, the Sonshine Center and Inn from the cold.  Last year over 2000 pair of new running shoes touched the feet of children in need across Alberta.
In August of 2010 Stephen delivered shoes to the Inn from the Cold.  One of the guests that day was a little boy who received two pair of running shoes, one pair for indoor and one pair for outdoor. What Stephen did not realize was that this little fellow had never received a new pair of shoes before in his whole life. Our little shoe boy was very happy – so happy that when he went to bed that night he wore one pair and put the other pair under his pillow! This went on for the next three days until his Mom said that he would have to take off his outdoor shoes because they were dirty and so he, without reservation, went to the washroom and proceeded to wash his running shoes. A few weeks later his Mom was delighted to learn that they had an apartment and our little shoe boy's first question was "Can I take my shoes with me?" 
Stephen's Backpacks did not stop there and went on to furnish their complete apartment as a surprise Christmas Present 2010. (See Project Hope)
All proceeds from our Canada Day parade go towards our Footprints program.  In 2013 we were able to raise funds for 2000 pairs of shoes.
"Every child should have new shoes for school, we can help them Mom."
Stephen McPhee 2008