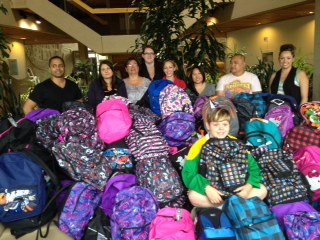 Stephen had a very special visit today at Telus to meet some pretty amazing teams who have stepped up again this year by tripling what they did last year to support Stephen's Backpacks. Stephen was buried in 167 Backpacks filled to overflowing. Excited teams joined us to help load two vehicles!  Many children will be blown away by the thought that went into each and everyone of these very cool backpacks, Hello Kitty, Super Mario , Barbie and the list goes on!
It is wonderful to meet a group of employees who live out their special company motto
"We give where we live!!" Thanks Telus for putting smiles on many faces today especially Stephen's.
"They love to help my kids!!" says a very grateful, happy Stephen