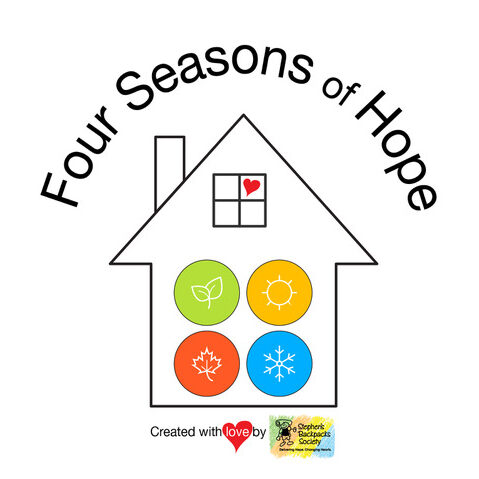 Stephen's Backpacks for Children in Need Society is a non-profit, registered charity based out of Airdrie, Alberta. Our goal is to end family homelessness across our nation. We provide the homeless, low income families and at risk children with the needed essentials in life filled with love into backpacks. All new items such as socks, hats, gloves, blankets, toys and teddy bears, toiletry kits, candy and so much more to give the gift of hope during hard times. Stephen's Backpacks Society has become a powerful agent of change across Southern Alberta and we are currently focusing on our Four Seasons of Hope program. In addition to providing the gift of a filled backpack, our goal is to help a family who has lost everything get back on their feet and make the transition from living in a shelter to living in a home again by partnering with local shelters and providing these families with a fully-furnished, clean, personalized, move-in ready home, each season of the year. We are hoping to raise $60,000.00 in total ($15,000 for each season). We would like to kindly ask for your support.
It all began with a dream from a 5 year old boy who overheard his parents talking about a homeless man in the newspaper. When he asked about it and learnt that there are homeless children, men and women it ignited a vision of change when he said to his mother "mommy we have to help them!" Since 2006, Stephen's Backpacks Society has helped more than 70,000 children in need and has supported 32 families with a second chance at home life. Stephen has become a voice for homeless children and it all started with a dream to help those in need. Over the last decade we have been focusing on helping these families long term and each year new and past corporate sponsors, small businesses, dedicated volunteers and foundations like yours help Stephen's dream become a vision of how things can be. We strive to make a house a home for each family in need, down to the last detail such as painting, cleaning, furnishings, decorating and putting a personal touch on it, even flowers on the table for mom, food in the cupboards and home cooked meals in the fridge.
In Alberta alone, according to Public Interest Alberta, there are over 150,000 children who are living below the province's low-income threshold (approx. 1 in 6 children) of which Indigenous and visible minorities are disproportionately affected. Although persistent childhood poverty in Alberta is slowly declining, those who are still living in impoverished conditions are found to have poor young adult outcomes and a low success rate for overcoming poverty in adulthood. The city of Calgary accounts for more than half (51%) of the homeless population in Alberta and on any given night in Calgary there are over 300 youth experiencing homelessness. With our intervention we can make an impact on our community for the better and help these ones in need by giving them hope because children who are happy and not in distress have been shown to improve their learning capacity, perform better in school and are healthier.
Stephen's Backpacks Society is focused on expanding operations from offering a gift of hope through backpacks to changing the lives of families and children by helping them get out of shelters or off the streets permanently and into a warm home with all of the essentials, resources, education and support systems needed for continued success. We have been fortunate enough to partner with and create lasting relationships with corporations and small business throughout the years to keep Stephen's Backpacks Society not only operational but also growing and expanding. Businesses such as McArthur Fine Furniture, Mattress Mattress, Walmart, Superstore, Soap for Hope and many more have made it possible to put beautiful furniture, household items and food into the homes inspiring everyone involved showing anything is possible when we rally together as a community.
Stephen's Backpacks Society is passionate about creating change in the world that we live in and encourages everyone to dream out loud. We hope you find our program worthy of your foundations support and together we can make a house a home one season at a time.