Stephen's project to offer Hope in a Christmas backpack gift for children in need.  It's not just about backpacks anymore; in fact, it never has been…
It's about Hope in the eyes of a child… You can help Deliver that hope by DONATING or GETTING INVOLVED  .
---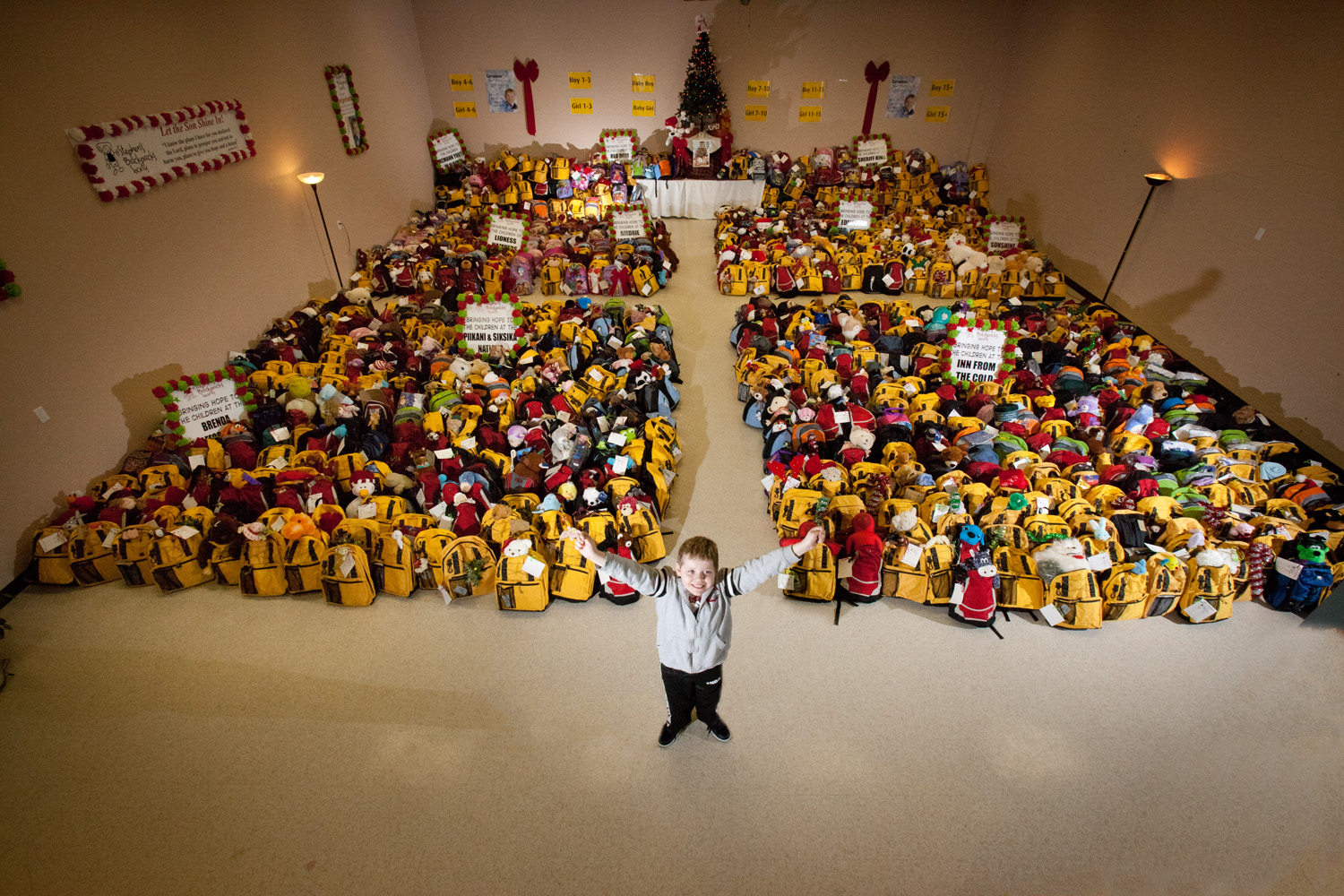 Christmas Backpack Gifts story by Nancy McPhee
In December of 2006 my husband Jim and I were talking about a homeless man in the Calgary newspaper. We were having a typical conversation of I wonder who he is and where his family might be at this time of year. Our son playing in the other room came in and asked a question that would change our lives forever."Are there kids on the street Mommy?"
"Yes, Stephen unfortunately there are children without homes." Without even thinking he blurted out "Mommy, I need to help them!!" When I asked him how he wanted to help them he said he wanted to think about it. A few weeks later Stephen came to us and said, "I know what I want to do Mommy, I want to make packbacks!"He could not even say backpacks but when he went downstairs and took some of his good toys and crayons and books and brought it upstairs; we knew he was a little man on a mission. My husband and I were really excited as Stephen had been diagnosed with PDDNOS on the Autistic Spectrum in 2005 and this behaviour of wanting to reach out and help wasn't really a characteristic of children on the spectrum. As a family we went out and purchased 15 backpacks and filled them to overflowing with all sorts of wonderful items. Stephen's favourites to put together were the baby backpacks. Knowing that our son was a visual learner and very concrete thinker we phoned Inn from the Cold and delivered our fifteen backpacks Christmas Eve of 2006. Stephen presented his first backpacks to a 16 year old boy with Down syndrome at the shelter. Stephen was very shy and wished him a very softly spoken Merry Christmas and we left. We felt great as a family that this was a fun thing to do at this time of year and nothing more was really said.
Fast forward to November 2007 when the stores started bringing out their Christmas decorations and music reminded us that the Christmas season had begun, once again Stephen approached us and asked if kids were still on the street. Again quite surprised by his comment I replied sadly that "Yes there still were children on the street." "I'll need to make bigger packpacks", he said.  Anne Beaty from the Airdrie Echo, at the time, came over to talk to Stephen about his desire to help these kids again this year. She interviewed him and she asked how many would he like to make this year. Without a hesitation he didn't even blink an eye "150!" he said "Yes I want to make 150 packpacks." I almost fell off my chair and not wanting him to be disappointed I said "Stephen that is a lot of backpacks, we only made 15 last year." "Mommy, You need to Dream out Loud!" For a few minutes you could have heard a pin drop in our living room.
The newspaper article was printed and our doorbell did not stop ringing. Older women who had knitted slippers, a wee girl; Jennifer Theissen who gave up her whole Barbie collection that she had collected for ten years, toys, books, clothes, candy backpacks. Our home was flooded on every floor a week before Christmas. How could we deliver all of these backpacks? I phoned a wonderful woman Barb at Cardinal Buses, and she donated a big yellow school bus to solve our delivery problem for Christmas Eve. What a miracle a week before Christmas to get a bus donated! Dec 2007 loading the bus outside our home with CTV joining us for the day was the most amazing Christmas we have ever had. Volunteers came from everywhere to help us and formed a human chain of love to load the school bus. Roy a wonderful pastor came to drive our bus and decorated it at the front with a huge red bow. Yes this was a Christmas we will never forget. We will never forget the looks on the faces of the children at the shelter with eyes as big as saucers as they lined up to get their special gift of love from a little boy that could not even pronounce backpack, but certainly knew how to fill it with hope and love and to rally many wonderful volunteers to come to his aid.
He was a little man on a mission. By the way the 150 I thought that he could never put together ended up being 265 precious Christmas Backpacks filled with a light to brighten the world of a homeless child.
The next year 2008 we formed a Society and then a National Registered Charity. Pastor Barry approached us and said he would love to come alongside and help. He offered to donate a huge space at Cornerstone Foursquare Church in Calgary. We had received another gift; a place to call home. That year we had volunteers from Airdrie, Calgary even as far away as Cranbrook come to help and over 1000 backpacks were delivered that year to children in need.
In 2009 we were given two warehouse units in Airdrie on Kingsview Blvd.  and again the love poured in as the gifts and donations multiplied. Over 1500 children were blessed that year from Stephen's voice rallying the communities to help. Again in 2010and 2011 Stephen's voice touched the hearts of many and over 4500 backpacks were delivered across Alberta.
Here we are in 2012 with over 16,000 children in need that have been blessed with a gift of hope through Stephen's Backpacks Society. Highland Moving has transported our backpacks across Alberta for the past 3 years. Recipients include The Sonshine Center, Brenda Strafford Center, Sheriff King, Calgary Healthy Families, Hull Homes, Drumheller- Healthy Families, Piikani and Siksika Nations, Hope Mission Edmonton, Bethany Homes Wetaskawin, Red Deer Food Bank, Airdrie Food Bank, Lioness Hampers, Fire Victims, Haiti, Slave Lake and more.
Jim and I are still amazed by our little boy who in spite of his own every day sensory challenges wanted to reach out to help and has become a voice for homeless children across Alberta. Stephen remains a humble, faith – filled, determined young man who continues to teach us, our city, our province and our country what it means to "Dream out Loud".