Wow! What an amazing Canada Day!
Supporters lined up at our BBQ to support children in need having a new pair of running shoes to go back to school with this fall. A huge thank you to our volunteers who worked in the heat to make this dream a reality for many children.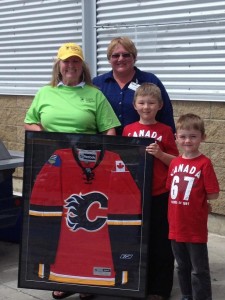 Our Calgary Flames Jersey signed by all the players and framed was won by 7 yr old Aidan Eilander who said "I have never won anything in my whole entire life!" Congratulations Aidan and 550 children in need have won also and will have new running shoes to wear to school this fall.
For more photos visit us on Facebook!