Airdrie's Richest Resource- Our Volunteers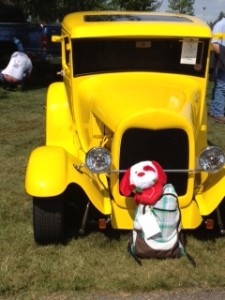 August 11, 2012.
What a way to spend a Saturday morning at Nose Creek Park for the Summer Classic Car Show. First let me congratulate all involved in coordinating this. The number of volunteer hours that must have gone into making this special day happen I can't even imagine. Our Stephen's backpack was placed in front of more vintage cars for special photos. I must say that the cars were spectacular to view; but for me I was really impressed with the numbers of volunteers smiling, ready to help and extremely friendly. I really felt an appreciation for the hundreds of volunteers who have made Stephen's Dream a reality year after year. What a blessing folks to live in such a warm and vibrant city! A job well done Time Travellers!
We invite you and your family to join us for our Footprints Finale Aug 17th 3pm at CrossIron Mills and Sat Aug 18th at 10am at our Airdrie Warehouse to assemble shoes. Still time to donate!
Like us on Facebook and Have a great week!