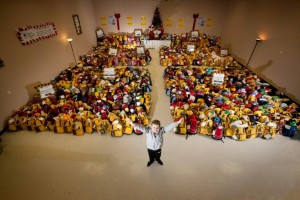 July 29th 2012
The opening of the 2012 Summer Olympics this weekend was spectacular. What a gift to watch such dedication, commitment, focus, strength, faith and perseverance of many athletes from all over the world. For years they have trained and kept their eyes, hearts and minds on their dream-to be the best they can be in their gifting. I really look forward to journeying through these next few weeks and just witnessing such determination, successes and some losses. It is all part of what is when we strive to be the best we can be.
We all have dreams that we pursue; each one unique; each one different. There is no dream more important than the other. The secret is to journey together, inspiring and encouraging one another to be the best in our particular sport, art, business, school, non- profit and the list goes on.
Last week I promised I would share how 265 backpacks became 1025 in one year. The first thing we needed was a home to assemble these Christmas gifts of hope for children in need. Pastor Barry from Cornerstone Church in Airdrie and Calgary generously offered to come along side us and gave us a wonderful space to do our Christmas of 2008 Backpacks. Corporations, professionals, businesses, Retirement Homes, Girl Guides, Scouts, Youth  groups, Schools, Sunday Schools and simple everyday folks like us rallied behind our son's passion. Stephen indeed had the voice , but it was all the above great people in our Province that made all these Christmas gifts of hope happen and continue to make each great year happen!
Stephen unshaken faith never doubted for a minute that this would happen, just as he believes one day there will be no more children worrying about new shoes for school;  a bed to sleep in at night or waking up in their own home every day. Stephen is running in his own special olympics- to help end family homelessness. I hope you will join us. Please write to me and share your  "Olympic" Dream. Your dream is important! Your dream counts! I would love to encourage you.