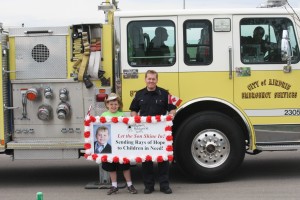 Backpack Chat with Nancy
Airdrie's Finest Emergency Services respond to hundreds of calls in our fine city. Every day they risk their lives, save lives and rescue many victims of fire disasters. For many years now Stephen's Backpacks has had the privilege of their fire truck coming to our Jul 1st BBQ where all funds go towards children in need.
Recently, Stephen's Backpacks responded to a request to assist a family here in Airdrie where a little one has some serious medical conditions. His dream is to be a fireman and so I called and spoke to the Deputy Chief. Without hesitation he was on board to help this little one, while he is on the journey to healing and recovery. We discussed all sorts of ways that we could help encourage and uplift this great family.
I am so proud to be a part of this great community where our Emergency Services respond to everyday 911 calls and in the middle of all that they still can make a little boy's journey a lot brighter.