Stephen's Cutting Boards and BBQ Platters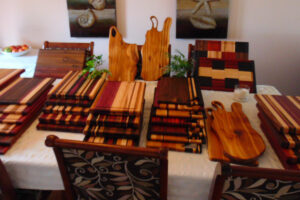 Giving Vulnerable Children The Tools They Need to Succeed …
Stephen's Backpacks A Team has produced an exquisite collection of Gourmet Cutting Boards, BBQ Platters and Charcuterie Boards.
Stephen's Cutting Boards are produced with exotic hardwoods, purchased locally. High quality woods such as African Rosewood, Purple Heart, Padauk Bujinka, Maple and Zebra create an artistic, unique board giving elegance to everything you serve.
Each board is sanded to perfection and beautifully finished and preserved with mineral oil and organic beeswax. The boards are end grain, resulting in durability and less markings when used. This rare gift will give a child in need a backpack filled with school supplies.
Give a special Mother's Day, Anniversary, Birthday, Wedding, New Home, or Easter gift, with a personalized engraved message with calligraphy or font of your choice. A card will be attached to the gift explaining that this exquisite gift has also reached out to a child in need.
Click here to read the story of Stephen's Journey.
Choose from the following selection of boards
Every board sold gives a backpack filled with school supplies to a child in need. All proceeds go to Stephen's Backpacks.


We will contact you to arrange for curbside pickup/delivery.
Orders outside of the Calgary region will be shipped via Canada Post; additional charges will apply.
If you have any questions or would like to place a custom order, please contact Nancy McPhee at director@stephensbackpacks.com