Read the incredible story that has changed hearts and brought Hope to over 31,000 children.  A story with humble beginnings about one little boy who "Dreams Out Loud" and becomes a voice for homeless children.  While the circumstances are difficult and often sad …this is really a story about, belief, optimism and delivering Hope.
---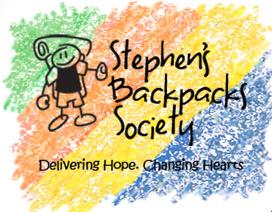 ---

Christmas December 2006

Stephen, at 6 yrs of age, had a strong desire to help homeless children. His family completed 15 backpacks and they all went to Inn from the Cold.

 
 

---

Christmas December 2007

Stephen's City of Airdrie catches his vision after article appears in local paper. Stephen "Dreams Out Loud" and 265 backpacks are delivered to shelters in Calgary.

---

Feb 2008

Board formed and Stephen's Backpack for Children in Need Society was formed.  Registered…5013862379

 

---

April 2008

Stephen's Backpacks formed "Footprints" a program providing new running shoes for children in need, resulting in 600 new pairs of shoes being given to five shelters in Calgary.

---

June 2008

Stephen was a recipient of Alberta's Greatest Kid award presented by Premier Ed Stelmach.

---

July 1st2008

Stephen's Backpacks participated in the Canada Day Parade and won 1st prize for the best float!

---

August 2008

Nancy McPhee wrote her first book chronicling Stephen's journey with autism.  Her premier book is an amazing story of courage, faith and determination to succeed and was published by Blitzprint in Calgary. The first printing sold over 2000 copies through Canada Safeway Stores right across Alberta.  All net proceeds from this book went towards helping two families off of the street by setting them up with new furniture, dishes, bedding, bathroom and a totally equipped kitchen, clothes, presents and even a Christmas tree…Learn more.

Because of the success of her first book and requests from schools and parents, Nancy is currently putting the finishing touches on a children's illustrated chapter book with all net proceeds going towards Project Hope. This wonderful, uplifting story set in Albertroz is all about…well you will just have to read "On Eagles Wings… Stephen Slays the Dragon" scheduled to be released in the fall of 2012…Learn more.



 

---

December 2008

Stephen's province came on board and 1025 backpacks were collected and delivered to Edmonton via helicopter. Hundreds more were bussed to Red Deer, Drumheller, Airdrie and Calgary. Stephen was recognized as the "Everyday Hero" nationally on Global TV.

---

Jan 2009

Stephen's Backpacks responds to fire victims in Airdrie and collects over $3000 in donations.

---

Feb 2009

National Charity status approved—80075 9417 RR0001

---

June 2009

Stephen recognized by Madame Chair Sylvia Eggerer of Rockyview School Division and letters were sent out by her to all schools encouraging participation.

---

August 2009

Footprints doubles the number of shoes collected to 1100 pairs.  Recipients included shelters from across Alberta including those of Siksika and Piikani First Nations.

---

Dec 2009

Backpacks doubled to 2025 and delivered to Edmonton, Calgary, Red Deer, Lioness Hampers, Food Banks, Drumheller, Central Alberta, McMann Youth, Siksika and Piikani Nations.

---

Jan – March 2010

Stephen's Backpacks rallies the province through "Hugs to Haiti" and partnered with an orphanage to send a sea container of supplies in aid.

---

March 2010

Stephens Backpacks provides backpacks, clothes and shoes to three fire victim families in Airdrie.




---

April 2010

Stephens Backpacks raised funds at the Airdrie Home and Garden Show.  New indoor and outdoor running shoes were purchased for children in need and many were given to the Airdrie Food Bank and Lioness.

---

August 2010

Stephen's Backpacks provided over 1500 new pairs of running shoes for children in need to return to school in the fall.

---

Dec 2010

Stephen's Backpacks topped 2500 Christmas Backpacks delivered this year. On Christmas Eve over 40 volunteers joined Stephen on a coach bus and distributed gifts to children at the shelters. A special presentation was made to a family in memory of one of Stephen's volunteers' daughter who had passed away this year. A Mom with two children and one on the way was surprised at the complete apartment furnished for her and her family for Christmas this year also.

---

April 2011

Stephen was awarded "Leader of Tomorrow" in Calgary through Volunteer Calgary sponsored by Encana. Premier Stelmach attended and congratulated him. He also met the Right Honorable David Johnson for breakfast and in his own humble way, they sat and compared ties.

---

May 2011

May 28th Stephen's Backpacks furnishes apartment #8 for a family with three children, two girls and a boy nine. Dad is battling cancer and mom is holding down the fort with two jobs. They left the shelter and were surprised with a whole new apartment!

---

June 2011

Stephen's Backpacks assists three families in Slave Lake after the fire disaster. A team was sent to set everything up for these families.

---

August 2011

Footprints–Stephen's Backpacks provides new running shoes to 2000 children this fall to start school.

---

September 2011

Generosity of Spirit Award 2011 given to Stephen for all of his work to help children in need.

   

---

December 2011

Over 2000 Christmas Backpacks gifts were delivered to children in need across Alberta. Stephen was awarded All Star Volunteer 2011 in Edmonton Dec 5th.  Mr. Ed Stelmach and his wife Marie were among the many guests. Daryl Jantz of CTV did an "Inspire" documentary on Stephen. Stephen, in his humble way continues to focus on the most important fact that children still remain on the street; with no home and no bed of their own.

---

March 2012

Nancy's McPhees "On Eagles Wings Stephen Slays the Dragon" illustrated story book was written for young people to understand the importance of outreach and leadership in our community and world. 100% of all net proceeds of this children's book will go to children in need. Available to purchase in the fall of 2012.

---

April 2012

Stephen's Backpacks web page is under construction.  Coming soon–Keep watching for us on Facebook, Twitter, You Tube and Linked In.

---

May 2012

Pepsico Beverages partners with Stephen's Backpacks through Project Hope.

The Family #13 makeover was accomplished with the help of 25 enthusiastic Pepsi employees who rallied to do a complete makeover for a single Dad and four children.  Their house was transformed into a home filled with brand new furniture, bedding, food, clothes and much more… Hope for a new beginning.

 
 

---

May 2012

Starbucks partners with Stephen's Backpacks and kicks off the Footprints running shoe drive for 2012.

A Beta test of all Airdrie, Balzac and 11 Calgary Starbucks Stores will begin by collecting running shoes from June 8th until Aug 15th. Stephen made personal appearances at two New Store Openings decorating drinks with yummy caramel and chocolate drizzle.

The net proceeds of the "Family and Friends" openings in Market Mall and Royal Oak were donated to the Stephen's Backpacks Footprints 2012 campaign.

---

June 2012

Stephen makes a personal appearance June 8th at the Airdrie Towerlane Mall Starbucks from 3:30 to 4:30 to kick off their Footprints Campaign for Stephen's Backpacks collecting new running shoes for children in need.

 

---

June 2012

COBS Bread in Airdrie joins the campaign to raise the simple necessity of new running shoes for children in need to start school.

---

July 1st2012

Marks the fifth annual Footprints Fundraiser July 1st Barbeque
"Piping in Canada Day with a whole lotta Country."
Featuring Mark Lorenz, the Scottish Traditional School of Piping band and Wilson School of Highland Dance.
100% of all net proceeds are donated to new running shoes for children in need to start school fall of 2012.
To date Stephen's backpacks for Children in Need Society has provided for over 16,000 children and families through the following organizations;
Inn from the Cold Calgary
Brenda Strafford Center
The Sonshine Centre
Sheriff King
The Piikani and Siksika Nations
Airdrie Food Bank
Lioness Hampers
Red Deer Food Bank
McMan Youth
Edmonton Hope Mission
Bethany Homes; Wetaskawin
Healthy Families Drumheller
Neighborhood Place Sundre
Hull Homes
Healthy Families; Calgary
Fire Victims in Airdrie
Hugs to Haiti-Sea Container
New indoor and outdoor running shoes have been donated too many schools in Airdrie and Calgary for children in need.
Additionally twelve families, chosen through Inn from the Cold, have been assisted with completely furnished apartments. Stephen's Backpacks assists families transitioning from the street with new bedroom, living room and dining room furniture. In addition to fully equipping the kitchen with pots, pans, dishes and filling the cupboards and the fridge with food, the bathroom is setup and linens are provided for the beds.  Clothes, backpacks and shoes for the children are also included.
What does the future hold?
"If I could have one wish come true…
it would be to get homeless kids a house
with lots of toys, storybooks and green grass to play on."
This is where the story continues and you can be a part of it simply by helping Stephen's Backpacks!!
All you have to do is…
"You have to Dream Out Loud"
Get Involved – this link will take you to our volunteer/ collect stuff pages.
Donate Now –  this link will take you directly to our secure donation page at Canada Helps… and help make the difference in a child's life!